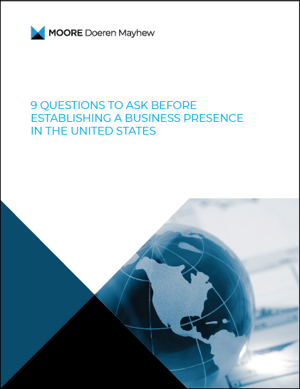 Doing business in any overseas country will result in many new challenges for your company. When doing business in a country as large and diverse as the United States, these challenges will probably be multiplied exponentially.
In many ways, crossing borders is like starting a new business from scratch — so the things that seem simple and obvious when doing business in your home country aren't always so on U.S. soil.
Establishing a business presence in the United States involves significant costs and ongoing expenses. You want to:
Make smart business decisions
Avoid regulatory and legal hurdles
Avoid overpayment of taxes
Minimize risk
Download our complimentary ebook, 9 Questions to Ask Before Establishing a Business Presence in the United States. It will help you evaluate:
Your distribution strategy
How you will supply your products to U.S. markets
How you'll generate sales in the United States
The costs involved in establishing a business presence in the U.S.
And more.
This is not your typical ebook. Rather, the Moore Doeren Mayhew team uses a different approach, asking the important questions, helping you plan with your end game in mind.
Simply complete the form.